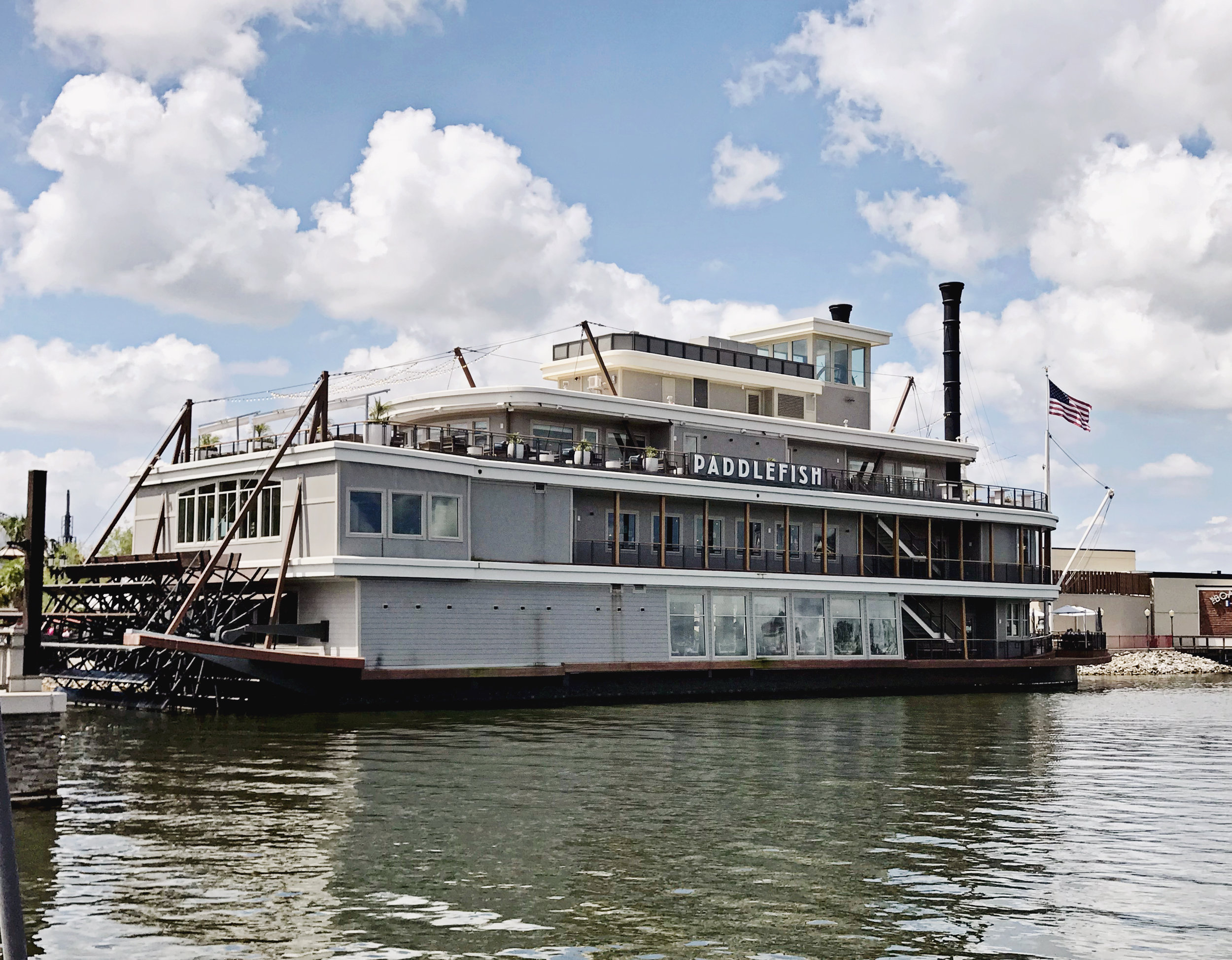 NEW -PADDLEFISH AT DISNEY SPRINGS™- $1,799
Paddlefish is an iconic restaurant and special events venue located aboard a reimagined, modern and luxurious steamboat. Docked on the shores of Lake Buena Vista, Paddlefish is the only restaurant in Disney Springs™ to offer rooftop-level, waterfront seating.
PACKAGE INCLUDES:
Venue: Get married on the Paddlefish third deck with spectacular views of Disney Springs™

An experienced Ceremony Officiant who will perform a beautiful ceremony service

The Florida marriage license arranged ahead of time (time permitted)

A fresh flower bouquet and a matching boutonniere

A professional photographer for up to 1 hour and all the digital photos
WHAT YOU NEED TO KNOW:
Venue provides complimentary seating for guests if needed. Decorations are not included, but may be added for an additional fee. Contact us for details.

This venue is only available for weekday ceremonies.

During the HOT months of May-September, we prefer a morning ceremony instead to avoid the intense heat and the common afternoon showers.

This is a brand new package and we don't have ceremony photos available as of yet.
Please add 7% sales tax
A $650 Nonrefundable retainer is required to reserve this package.
The balance is due 2 months prior your wedding.
Q. HOW MANY PEOPLE ARE ALLOWED?
A. This package is available for a maximum of 30 people total including the couple.
Q. DOES THE PACKAGE PRICE CHANGE IF IS JUST US?
A. No, sorry. The venue charges the same fee even if you have less attendees than the maximum allowed.
Q. DO YOU PERFORM WEDDINGS ANY DAY OF THE WEEK?
A. This venue is only available for weekday ceremonies. Check out the Botanical Gardens packages if you need a weekend ceremony.
Q. WHAT TIME CAN I HAVE MY CEREMONY?
A. Ceremonies are held in the morning (around 10:30am) year-round. During our cooler months of mid-October through the end of February, we may schedule an early PM ceremony if available.
Q. DO YOU ARRANGE TRANSPORTATION OR ACCOMMODATIONS?
A. No, we don't.
Q. HOW FAR IS THIS VENUE FROM DISNEY?
A. This venue is located right on Disney Springs!
Q. Can you suggest a restaurant for after ceremony?
A. You can eat at the same venue! Visit their website and contact them directly for details.
Q. Can you recommend stylists for bridal hair and makeup in Orlando?
A. Yes, we can. Please check with any of the following experienced vendors:
Q. Can you recommend someone for transportation from my hotel to the venue in Orlando?
A. Many of our couples take an Uber to and from the venue. However, if you'd like more traditional transportation check with any of the following limo companies:
Q. What are the requirements to get married in Florida?
To get married in Florida you need a Florida marriage license regardless of where you live.

You must be at least 18 years old

There is NO residency or waiting-period for non-Florida residents. Florida residents ONLY must wait 3 days after they obtain their license to get married. If you are NOT a Florida resident, your license is valid the same day!

If you live in the US, all you need is a valid State ID or Driver's License

If you don't live in the US, all you need is a valid passport

You do NOT need a Social Security card - only the number if you have one. If you are not a US Citizen, you don't need a Social Security Number.

You do NOT need birth certificates or divorce papers. If you've been married before, all you need to know is the exact DATE of your divorce.

You do NOT need witnesses to get married in Florida!

Click here to visit the Orlando Orange County Clerk of the Courts website for additional details.
Q. Is a Florida marriage valid at my Country?
A. A marriage performed in Florida is valid anywhere in the US, Canada, and the UK. For other Countries, please contact your local registrar for details. We are not attorneys and cannot provide legal advice.
Q. We are already legally married. Do we need a marriage license?
A. No, you do not. Vows renewals do not need a license because you are already married.
Q. WHO WILL GET ME MARRIED?
A. Officiants are assigned based on availability. Sorry but we do not offer religious services and cannot guarantee a specific gender.
Q. Do you perform same-sex ceremonies?
A. Yes, we do!
Q. Can I write and read/recite my own vows?
A. Of course you can! You should be free to express how you feel about each other on your own way!
Q. Do YOU MARRY COUPLES FOR THE UK?
A. Yes, we do! Approximately 20% of our couples are from the UK and other Countries.
Q. WHO WILL BE THE PHOTOGRAPHER?
A. Mya or Hector, owners of Elope To Orlando and professional photographers (Negroni Studio), will be your photographer. Every photo you see throughout the website and our gallery was taken by them.
Q. CAN I BRING MY OWN OFFICIANT OR PHOTOGRAPHER?
A. No, you cannot. The purpose of our packages is to sell our services! We are not a traditional wedding planning service where you pay a coordinator just to coordinate and hire your preferred vendors. We are the vendors! Our couples book our packages because they want our team to get them married AND take their photos.
Q. What's included with the photographer?
A. The photographer will start taking photos when the ceremony starts followed by a bridal session at the same venue. It includes up to one hour of his/her time including the ceremony. The couple will receive all their edited high resolution digital photos with a print release via a download link approximately four weeks later.
Q. HOW MANY PHOTOS DO I GET?
A. You get ALL the final high-resolution digital images with print permission. Average number of photos vary depending on many factors. Overall, you can expect a minimum of 50-75 photos.
Q. What TYPE OF FLOWERS are included with the packages?
A. Packages include a nosegay (hand-tied) bouquet with fresh roses in your choice of rose colors and a matching boutonniere OR a tropical bouquet with florist's choice of flowers and matching boutonniere. You may request a quote for a costume bouquet, however, keep in mind that specific flower requests are always subject to season/availability.
Q. WE ARE two brides. CAN WE HAVE TWO BOUQUETS instead?
A. You may replace the boutonniere included with our package with a second bouquet for an additional $75 fee.
Q. can we meet up in person to discuss our ceremony?
A. We don't arrange personal meetings, venue tours, or any of the traditional wedding planning services you can expect from a full-service wedding planner. Remember - we arrange elopements! Elopements are meant to be sweet and simple. However, we will communicate via phone and email, as many times as you need us, to make sure all the details are taken care of the day of your ceremony.
Q. CAN I VISIT/TOUR THE VENUE?
A. As elopement vendors, we don't offer that type of full service planning. However, you can "google" the venue's name and you should come up with the address and a contact phone number you can call and schedule a tour on your own.
Q. Is there a place to change INTO MY GOWN AT THE VENUE?
A. No. You need to arrive dressed and ready to start, with the exception of the Rose Garden package.
Q. WHAT HAPPENS IF IT RAINS?
A. There is a small covered area right before you step into the outdoor chapel that can be used in case of rain.
Q. WHAT HAPPENS IN CASE OF A HURRICANE?
A. If your venue is not available or you are unable to travel because of a Hurricane risk, we'll work with the venue and vendors to move your wedding date to a date that works for all of us. If you are booking a ceremony during Hurricane season (June-November), we highly recommend that you purchase Wedding Cancellation Insurance as soon as you book your date, in case you need to cancel your plans altogether. Click here for details and to get a quote.
Q. WHERE CAN I RENT A TUX?
A. Men's Wearhouse is a popular choice amongst out couples. However, we strongly discourage men from wearing a tux except during our cooler months of January and February. It's too hot and humid the rest of the year. Trust us on this one. By mid morning it could feel in the upper 80's even in the shade. If you'd like to dress up, we suggest a linen blazer instead.
Q. How is the weather like during my chosen date?
A. Click here to check out Weather.com average temperatures and precipitation tables by month.
Q. How far in advanced can I reserve your services or a package?
A. We are accepting bookings up to one year away.
Q. What happens if I have to postpone OR CHANGE my date?
A. If you need to change your date, we need to start the booking process all over again and a new agreement and new retainer for your new date will be required.
Q. DO I PAY EVERYTHING UP FRONT?
A. A nonrefundable retainer is required to book a package and a date. The balance is due two months prior your wedding. If you are booking a ceremony with two months or less advanced notice, then full payment is required.
We are happy to announce a payment plan option available to our our clients who qualify. You can now apply for financing with our merchant, Square Capital. This option is available at this time for couples that live in the following US States only: AZ, CA, CO, CT, FL, GA, IL, KY, LA, MA, MI, NC, NJ, NY, OH, OR, PA, TN, TX, UT, VA, and WA, per merchant's rules. Click here to apply if you already have a ceremony booked or confirmed availability with us.
Q. DO YOU OFFER MILITARY DISCOUNTS?
A. We already provide discounted services for elopements and additional discounts are not available.
Q. I'M READY TO BOOK MY ELOPEMENT! WHAT'S MY NEXT STEP?
A. Once you are ready to book your date with a signed electronic agreement and a paid retainer, just contact us to check availability for your date.
7 OTHER VENUES TO CHOOSE FROM!
Click on the venue photo to view package details!